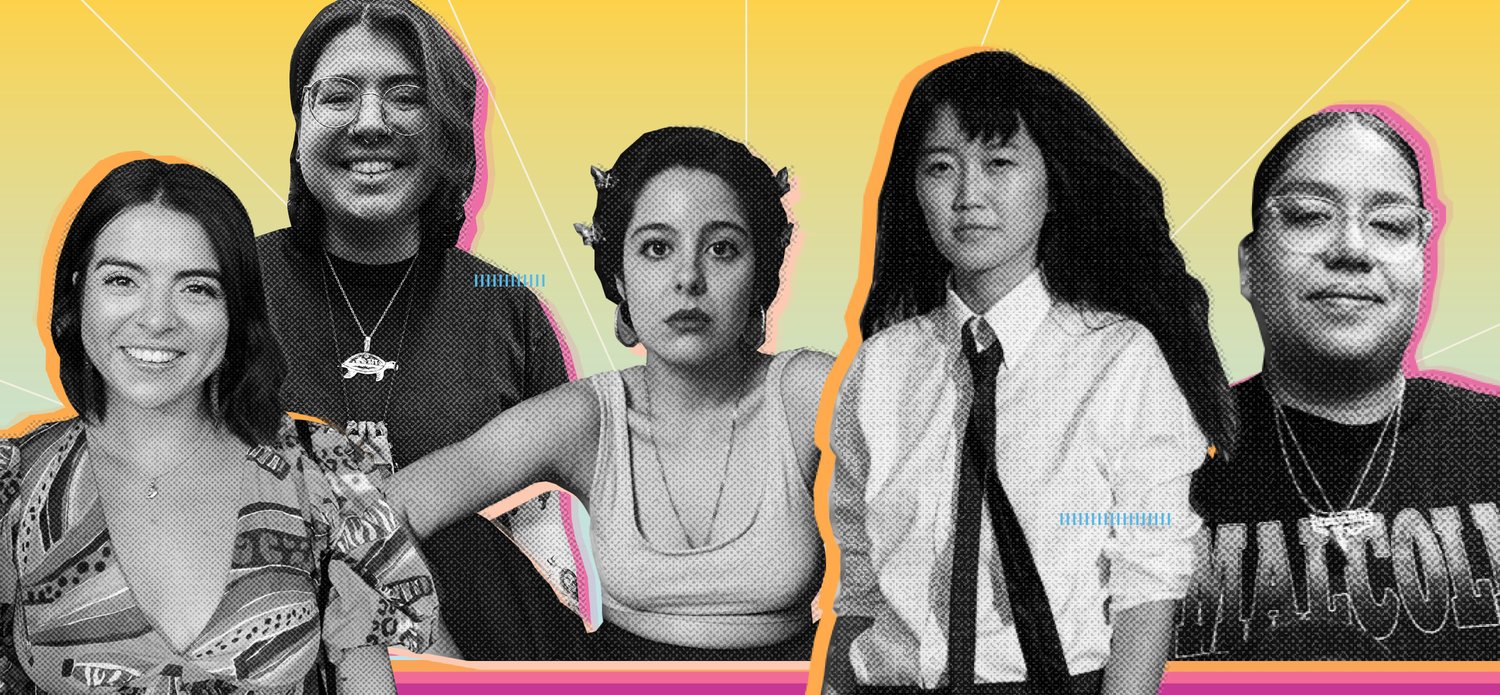 The Art of Abortion Storytelling
The Center for Cultural Power
January 06, 2023
We inspire a wealth of possibilities for cultural change by uplifting artists and leaders. Reproductive justice begins to feel more tangible when we amplify stories that embrace these possibilities. The Center for Cultural Power's mobilizes BIPOC communities and movement groups with stories of empowerment and endurance in the fight to retain bodily autonomy and the ability to choose our own destinies. Last year, we distributed funding to five artists to create original illustrations speaking to reproductive justice and the many experiences that it intersects.
Elizabeth Blancas - Ancestral Medicine Can Never Be Outlawed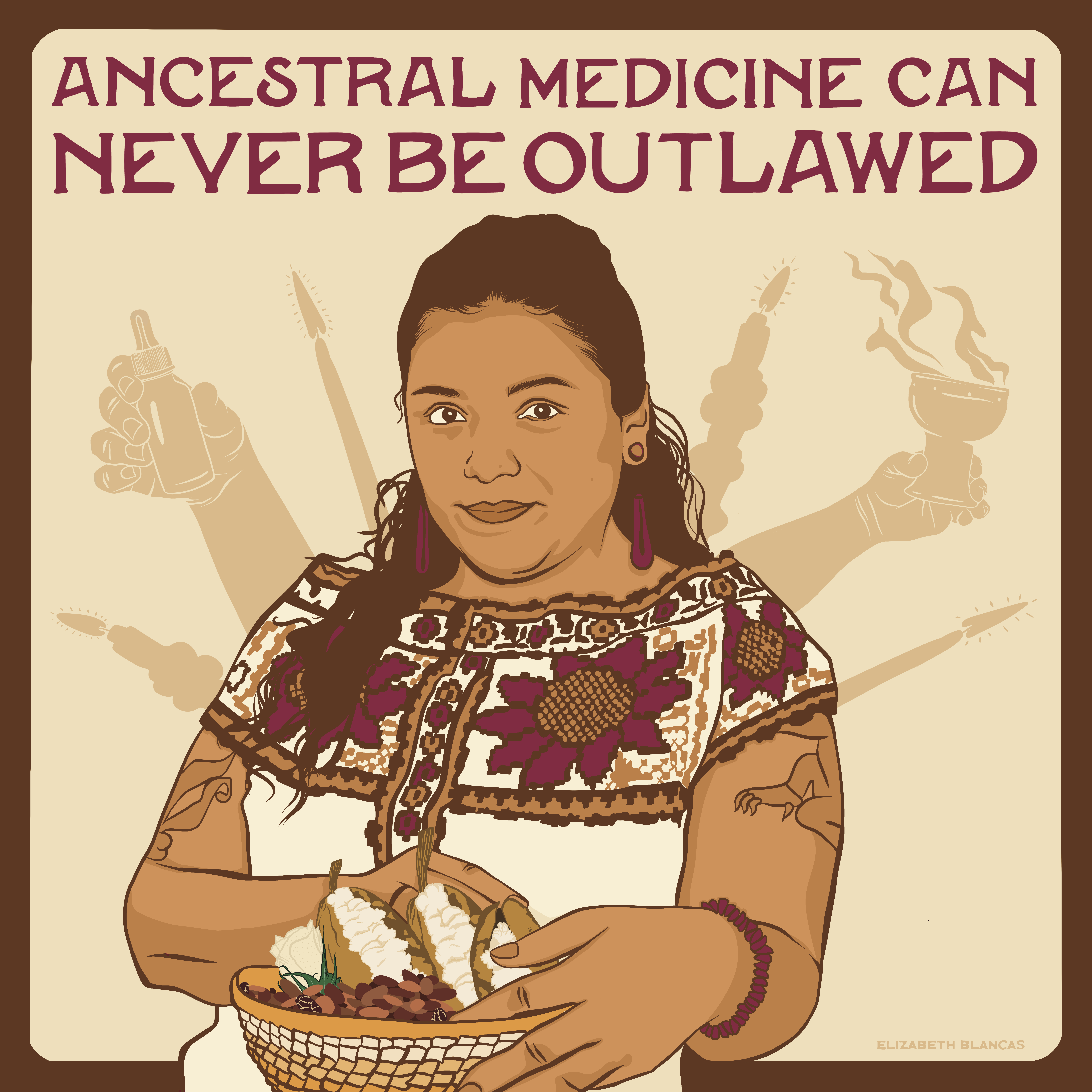 Elizabeth is a first generation queer Xicana artist based in the Bay Area. She utilizes art as a tool for resistance as well as a celebration of her community. Specializing in muralism and screen printing, she explores themes around culture, identity, womanhood and sexuality. Her work serves as a platform to empower LGBTQIA+ folks and communities of color. Blancas holds a B.A. from UCLA in Chicanx Studies and Art History.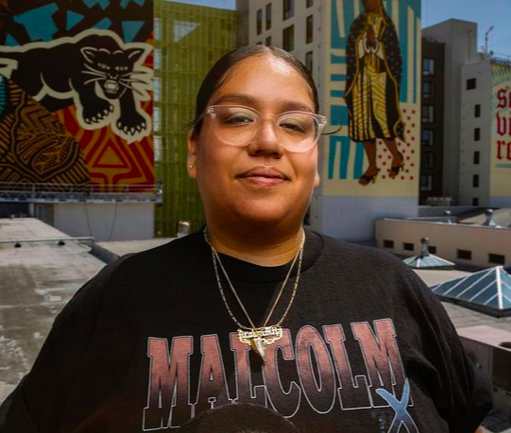 In this illustration, Elizabeth honors birth workers and abortion doulas by centering Montse, an Indigenous birth worker, abortion companion, herbalist, and "all around gorgeous human". She holds her basket of abortion allies: cacao, cotton, and pochote. The background features candles from her spirit baby altar while hands hold out more elements to honor abortion like sacred smoke and soothing tinctures. This illustration represents the fact that ancient-ancestral-Indigenous wisdom can never be taken from us.
Karla Rosas - Bans and Borders off My Body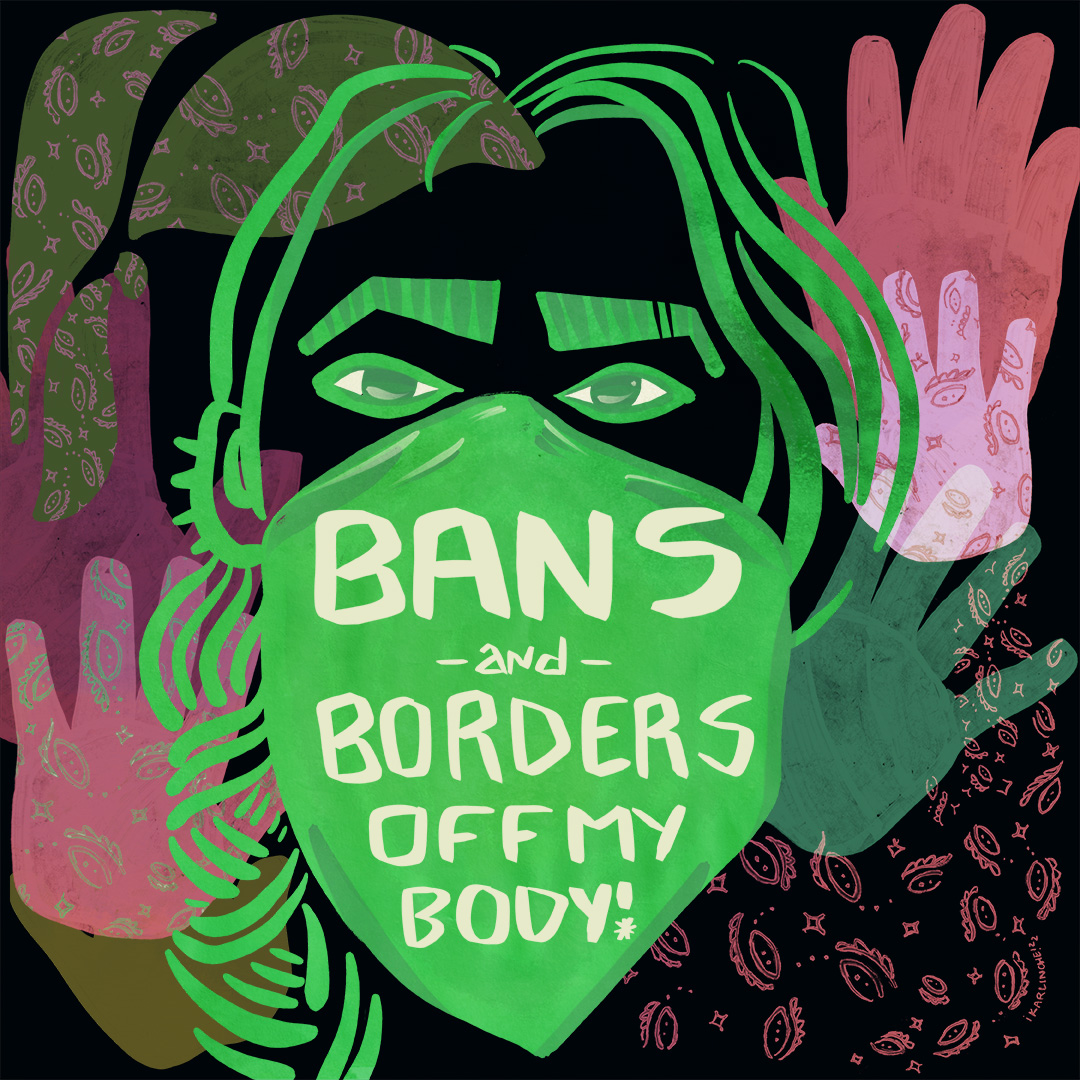 Karla Rosas (they/she) is KARLINCHE, an illustrator, painter, and language justice worker based in New Orleans by way of Cut Off, Louisiana. Karla is undocumented, and their art explores immigration as an ongoing mo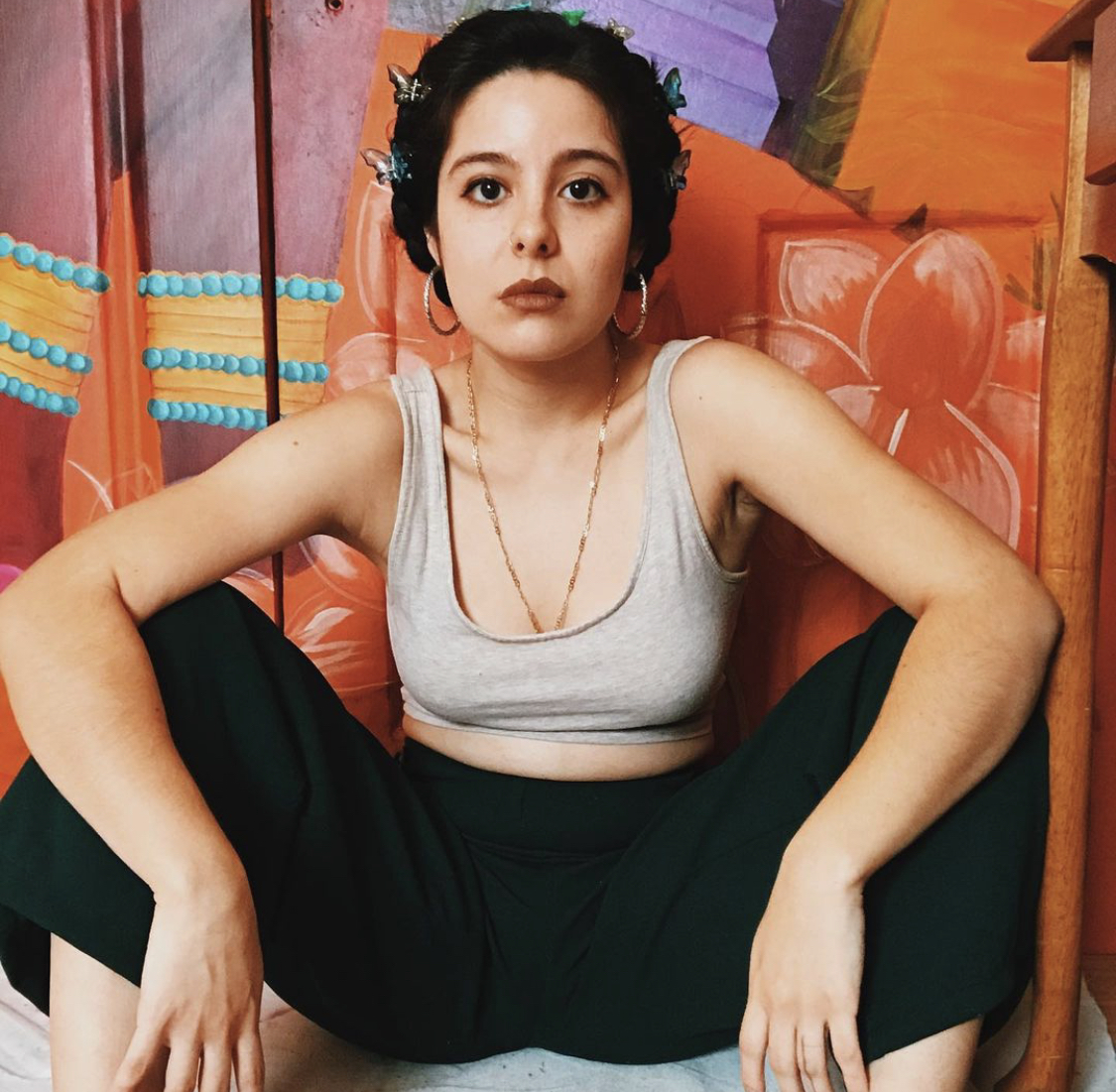 de of being through which we experience family history, land, gender, and the divine. Karla pulls from many influences* to tell stories — real, imagined, and in-between.
In this art piece, they take inspiration from the green bandana, a powerful symbol of reproductive justice in Latin America. Immigrant communities deserve barrier-free access to abortion services and resources to protect the health of their families. The forced separation of immigrant families is directly tied to the ability to choose how, when, and in which circumstances raise their children—the fundamental principles of Reproductive Justice.
Moe Butterfly - My Two-Spirit Should Be Celebrated and WIll Not Be Forgotten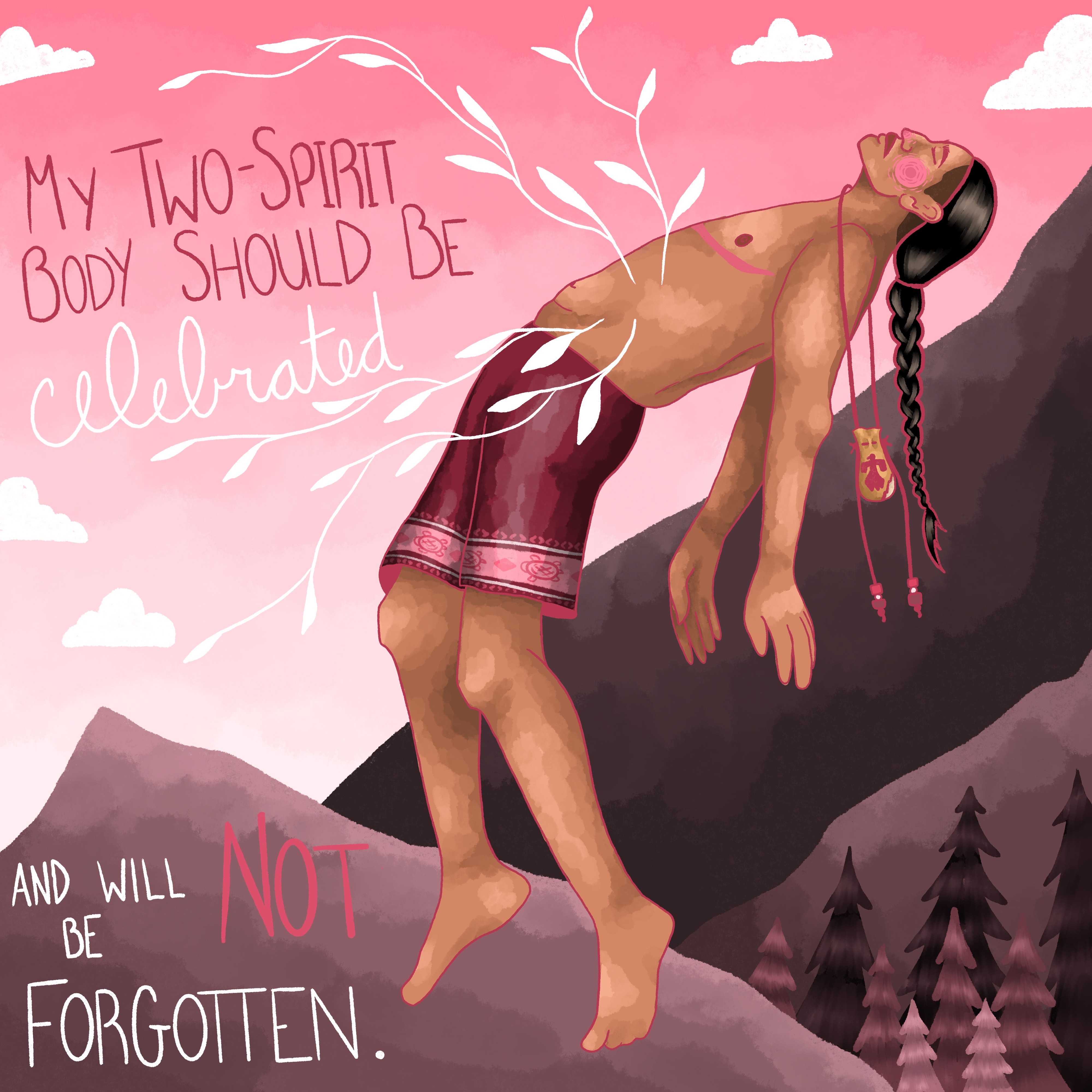 Moe Butterfly is a 21-year-old, mixed Seneca, Two-Spirit artist currently residing on Susquehannock land. In this work, Moe employs a combination of both traditional and modern Indigenous concentrations with a large emphasis on Two-Spirit representation. In their free time they also are a Fan
cy Shawl Dancer and a part of their family's drum circle. His main medium is digital painting, and can be found to have a lot of deep, saturated colors. While his art is for everyone to enjoy, he hopes that more than anything that young, Two-Spirit youth will find themselves in his art.
This illustration is a beautiful depiction of the grace and joy of Two-Spirit kin, and centers the messaging of celebrating, and remembering Two-Spirit bodies in conversations of birthing justice. Trans, Two-Spirit, and Non-Binary bodies continue to experience disproportionate mistreatment, systemic violence, and prejudice while accessing abortion services, quality health care, and birthing support. This commissioned artwork directly honors the presence and longevity of Two-Spirit folks.
Eunsoo Jeong - How Abortion Criminalization Disproportionately Affects Immigrants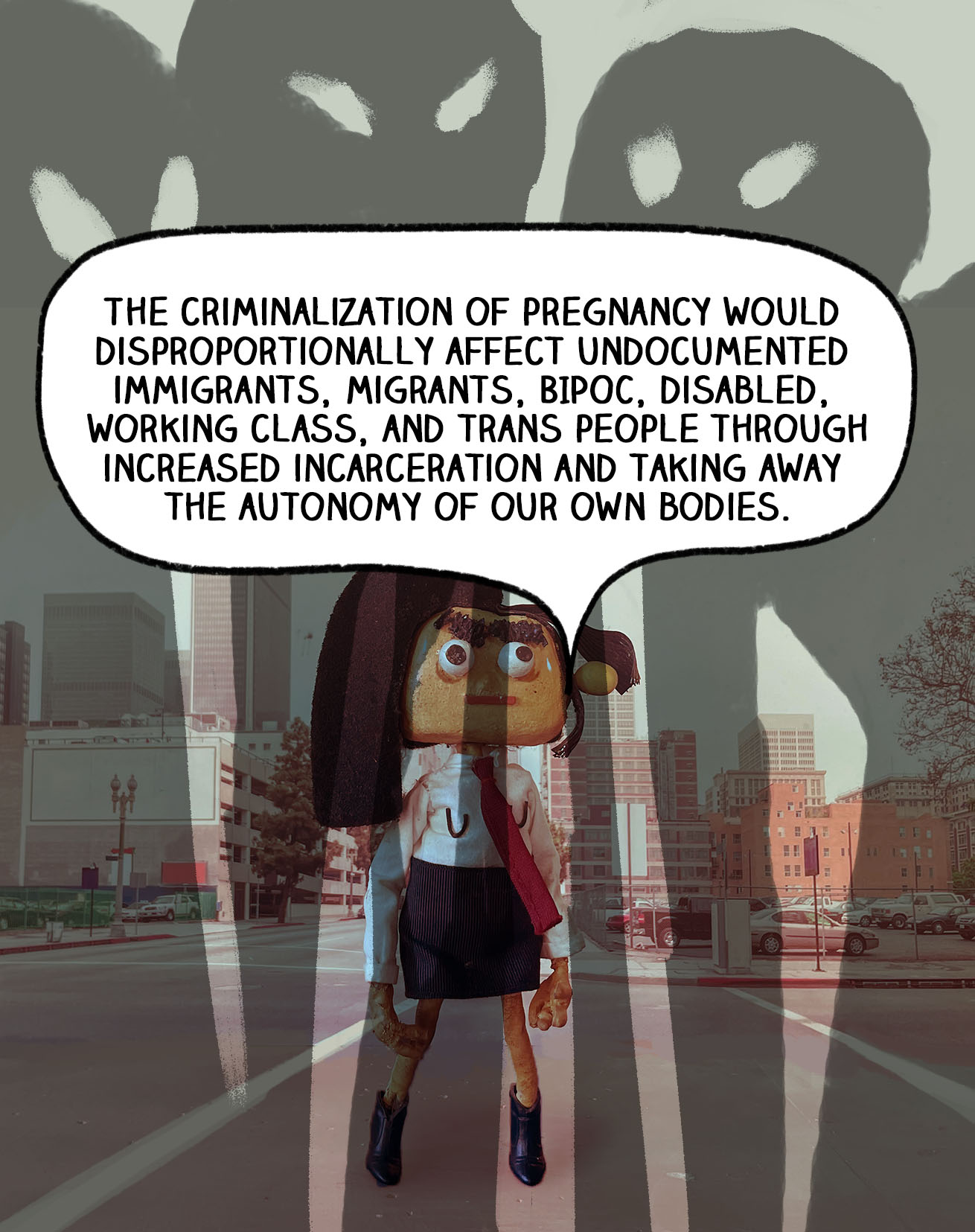 Eunsoo Jeong is a Los Angeles-based artist and the creator of Koreangry, a comic/zine series based on her daily strug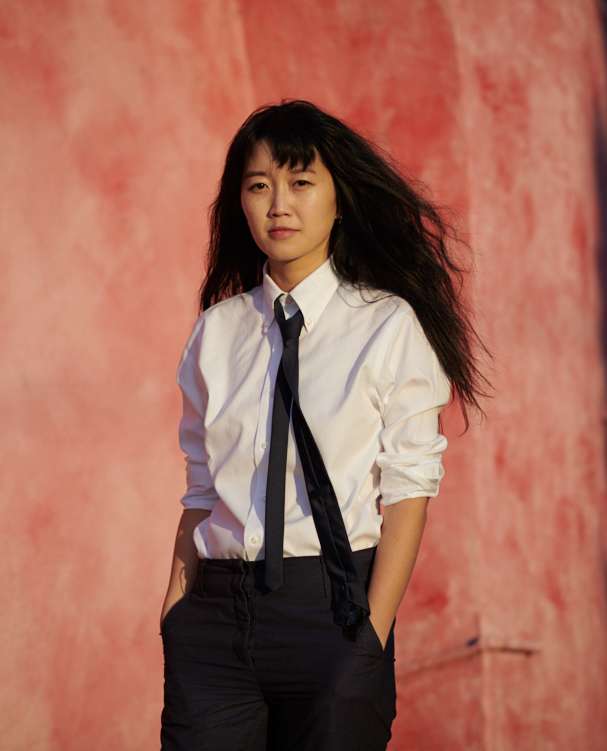 gles as a Korean-American. Koreangry is a 7-inch puppet/doll/armature/ character that she created, sort of her alter-ego. The Koreangry zine series illustrates the artist's life journey told with this character––photographed with hand made props in a set. The zines include written excerpts, word-play, poems, comics, crude sketches, and experimental digital collages.
Eunsoo's unique and detailed art style displays the multi-faceted and intersectional layers of reproductive justice, criminal justice, and her experience as an immigrant. Her deeply personal approach to conveying the impact of criminalizing abortion speaks profoundly to the purpose of this commission series – to empower birthing bodies in sharing their own stories about abortion justice. Click here to view the full carousel of her work!
Antonia Sanchez - Birthing Bodies Are Sacred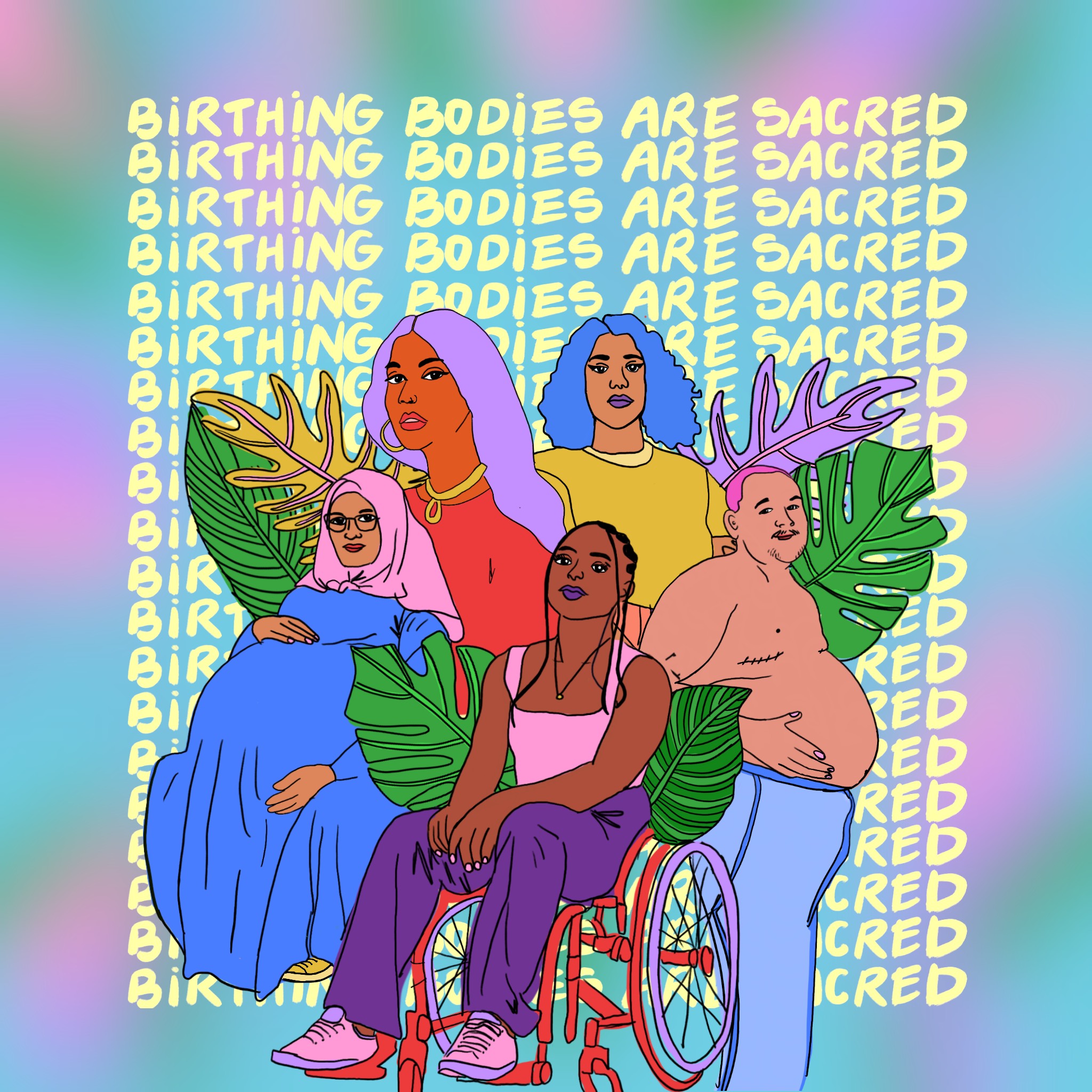 Antonia Lara Sanchez is a trained industrial designer with a BFA from Pontificia Universidad Catolica de Valparaiso, Chile. She considers herself to be an interdisciplinary artist who focuses on telling stories and uplifting stories of the Latine community. Born in Santiago, Chile, Sanchez immigrated with her family to Mobile, Alabama at the age of two. S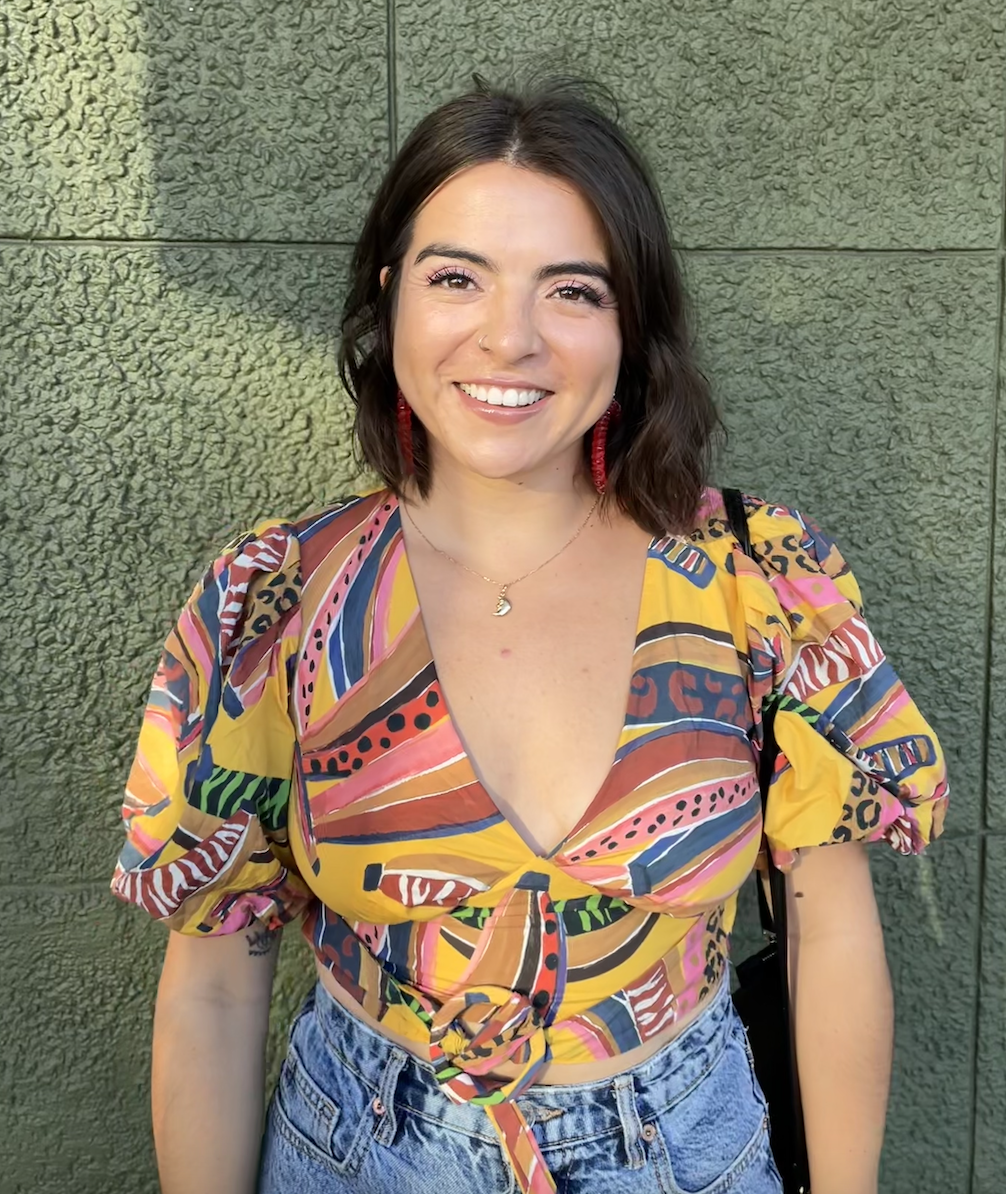 he moved to her motherland as a teenager until she graduated college in 2016. After graduating, Antonia moved to Providence, Rhode Island, where she worked as an art and design educator for the Providence Public School District and other local non- profit organizations for four years. She currently lives in Oakland and continues to pursue her passion for arts education.
Antonia's piece centers joy and diversity in birthing rights. In this illustration, she displays the cross-cultural strength and solidarity in the fight for reproductive justice, and reminds us that our bodies, capable of pregnancy, of continuing legacies, are sacred. Our destinies are controlled by us, through our protection of our bodily autonomy.
Last year we collectively experienced many threats against reproductive justice that we met bravely with community action, mutual aid, resources and support. Globally, birthing bodies gathered to create policy, to fight back against attempts to control our access to abortion, and we succeeded! We are continually working to deepen our Artist Leadership and Intersectional Storytelling as we continue to fight for reproductive justice.