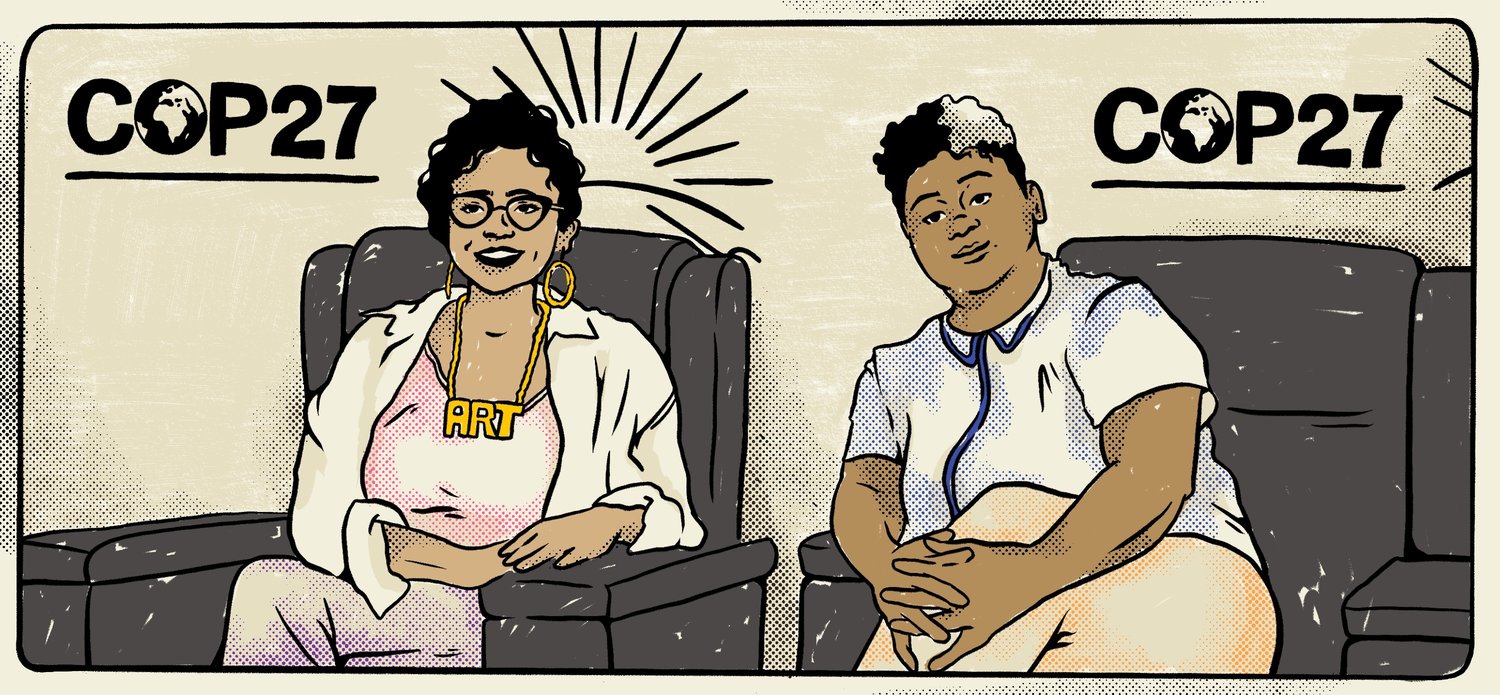 Bringing Cultural Power to COP27
The Center for Cultural Power
December 12, 2022
Last month, the Center for Cultural Power's President, Favianna Rodriguez, and Senior Program Manager of Climate, Jeannine Kayembe-Oro, traveled to Sharm Al-Sheik Egypt for COP27. This annual conference is a space where global leaders come together to confront climate change and create environmental solutions.
The growing presence of Indigenous voices at COP27 is valuable to our mission of working closely with our Native kin who are historically and presently most affected by fossil fuel companies and targeted with harmful institutional practices. Even at the international conference dedicated to these conversations, Indigenous peoples have been notoriously kept off limits inside of COP27. Grassroots activists and communities held protests outside of COP27 calling for emissions reductions and accountability for global warming.
It is impossible to ignore the amount of barriers necessary to overcome being Queer, Black, and Indigenous in a place such as COP27 and the Center for Cultural Power was intentional in creating space, closed gatherings, and opportunities for rest and connection with fellow community members. Inside of the gathering, we hosted Implementing Climate Action in Entertainment and Culture: Inclusive and Equitable Pathways Towards a More Sustainable Sector. This panel uplifted artist leadership, emphasizing the role of storytelling, film and television in making climate narratives more accessible through media (View the highlights of the panel here.) Speakers included Emma Stewart Ph.D. of Netflix and Samuel Rubin from the Hollywood Climate Summit, among others. Additionally, we hosted spaces to move together joyfully, share food and community, and recharge from the fiercely exhausting discussions inside of COP27.
We connected with many incredible youths, women, and femmes who are leading the fight for climate justice internationally, and we offer gratitude to notable movement partners such as NDN Collective, African Youth Delegation, M4BL, Black Indigenous, and If Not Us Then Who. We must acknowledge how our styles of consumption, waste production, and capitalism in the West affect other parts of the world, and we must fight back against ideas of individualism. As always, the Center for Cultural Power continues to work closely with our global community to prioritize aid, healing, and connection to nature in our climate activism.