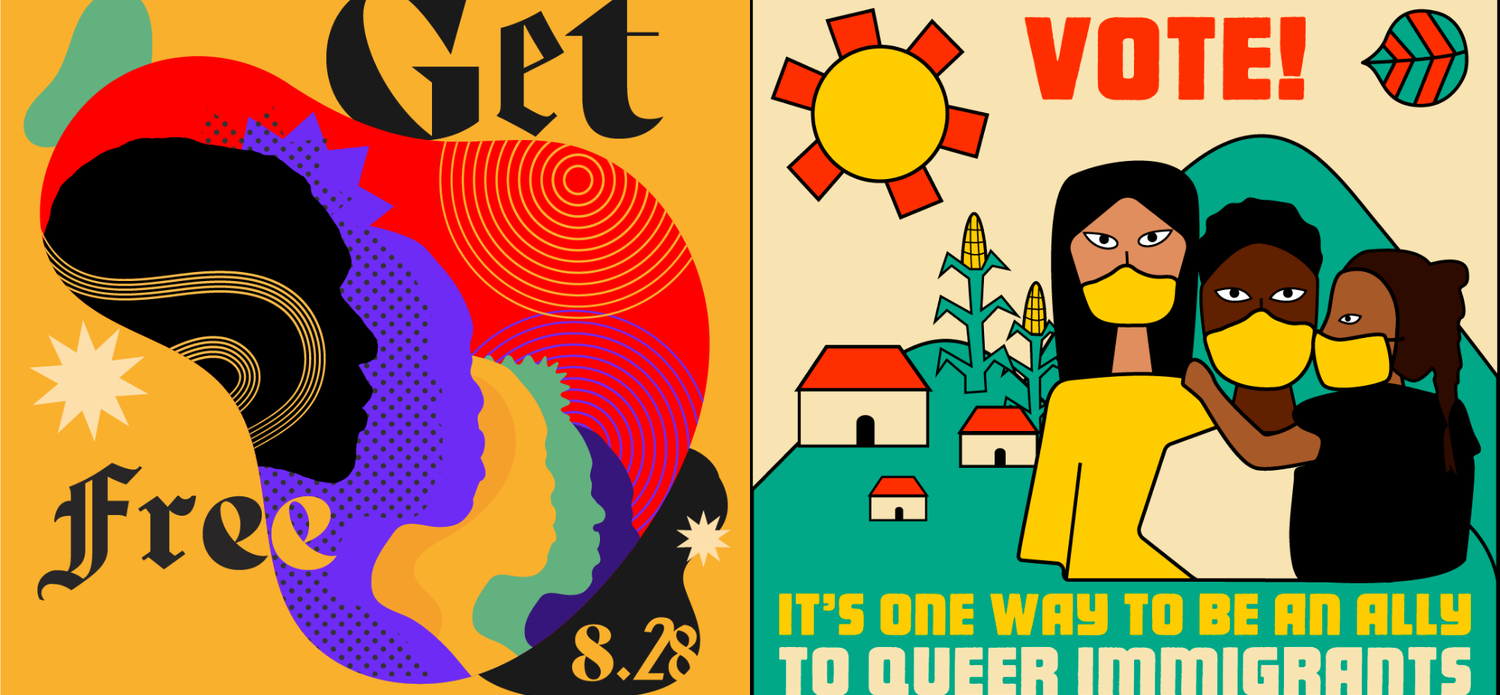 Movement to the Ballot Box 2022
The Center for Cultural Power
September 23, 2020
The November election is unfolding in a moment unlike any we have experienced in recent history. The Center for Cultural Power's Movement to the Ballot Box art series meets this moment by harnessing the power of artists to inspire new ideas and make the future we want feel possible, tangible, and inevitable. In a time where so much feels uncertain, art inspires and motivates us to take action for justice and a better tomorrow. It reminds us that we have the collective power to build something better together.
For 10 weeks leading up to Election Day, The Movement to the Ballot Box art series is partnering with authentic and compelling storytellers to increase civic participation and mobilize a historic voter turnout. Artists from across the country are uplifting important social and political issues and giving people a reason to believe that participating in the electoral process is worth it. The series features artists from across disciplines who are passionate about telling stories that move Black, Latinx, Indigenous, AAPI, and young people to be civically engaged. With works at the intersection of migrant rights, climate change, racial and gender justice, and voting, the Movement to the Ballot Box art series activates the role of artists in powering political and cultural change.
The series kicked off on August 28th with "Get Free" by Atlanta-based artist Neka King who strives to capture the urgency of now. The release coincided with the 2020 Black National Convention as well as the 57th Anniversary of the March on Washington. To date, the series has also shared work by several artists including Salvadorian-American artist Lani Rodriguez who's graphic art brings visibility to the queer immigrant experience. The Center for Cultural Power's President Favianna Rodriguez's graphic illustration calls for bold action and voting for leadership that moves us toward climate solutions. Fine artist and graphic designer Taylor Augusta uses design to center justice for Black and Brown communities. Taylor's playful piece for the Movement to the Ballot Box series encourages people to show up and highlights the importance of safe and early voting by mail.
As we come down to the wire in an unprecedented presidential election season, artists are inspiring and motivating us to take action for racial and gender justice and a future where we live in harmony with nature. By sparking our imaginations, art and culture makers amplify calls to get out the vote and combat voter suppression.
Follow us on Instagram, Facebook, and Twitter to explore their work and a growing gallery of other artists who are using their voice to envision a better future and inspire us to vote in the biggest election of our lifetime.