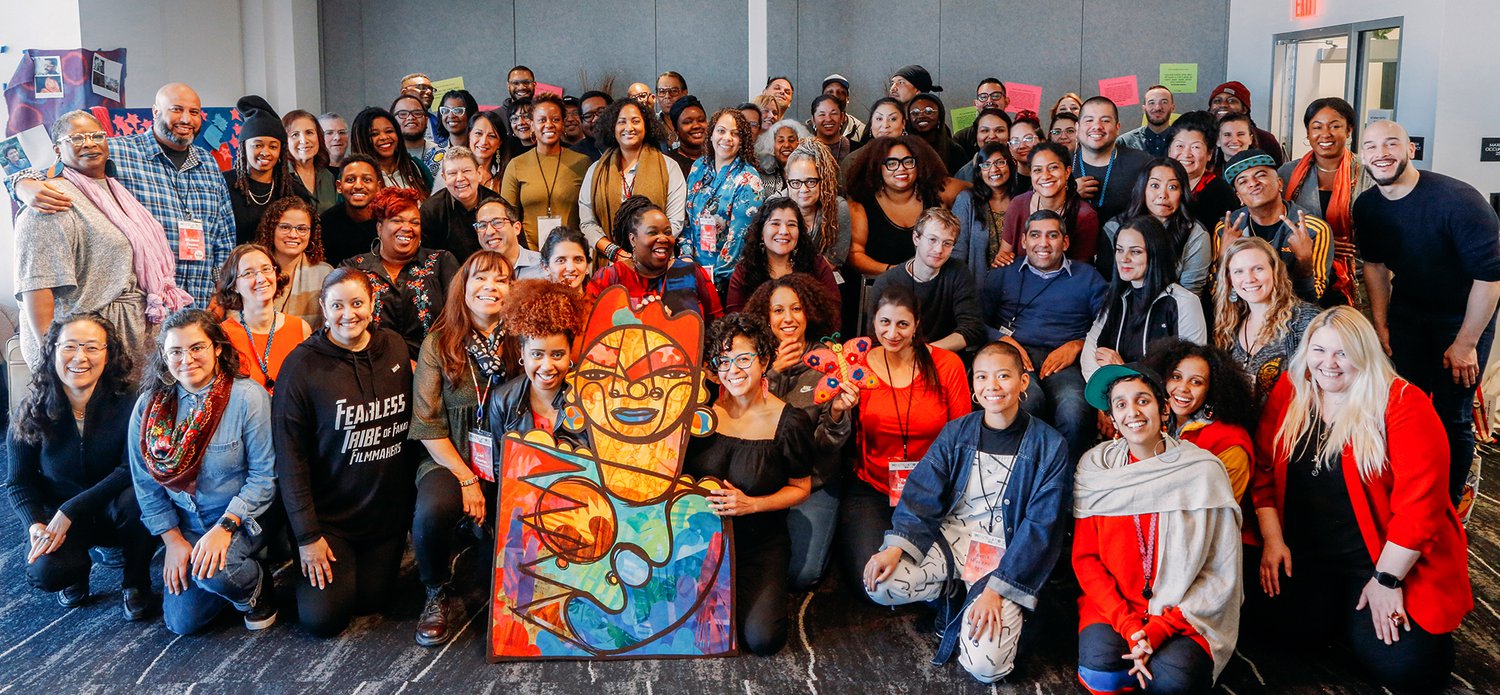 Constellations Culture Change Fund
"This is precisely the time when artists go to work. There is no time for despair, no place for self-pity, no need for silence, no room for fear. We speak, we write, we do language. This is how civilizations heal."
-Toni Morrison
Art and culture shape ideas and behavior, and never have we seen a time more primed for radical imagination than right now. As we emerge from a global pandemic, economic crisis, and international uprisings for Black Liberation, we need artists and culture makers to envision an equitable, anti-racist future. To have an impact, they need investment, community, and long-term support.
The Constellations Culture Change Fund is a $23 million, three-year initiative for equity that dismantles narratives that reinforce oppression and domination to create a more just world. It includes investment both in individual Black, Indigenous, and People of Color (BIPOC) culture makers as well as BIPOC-led cultural strategy organizations. A Design Team of field leaders that came together through the Constellations Convening in Dallas, Texas in 2020 crafted the fund, anchored fundraising, and now continue to guide the approach and implementation.
Cultural strategy is a field of practice that centers artists, storytellers, media makers, and cultural influencers as agents of social change. Constellations invests in the growth, connectivity and experimental development of the cultural strategy field. The fund incorporates the following core strategies:
Provide direct sustaining support to BIPOC artists, artist collectives, cultural bearers, and knowledge keepers who are working in key communities. The fund will look to especially support artists in under-resourced regions that include the South, the Midwest, and on Indigenous lands.
Provide general operating support to grassroots, BIPOC-led cultural strategy organizations in key communities.
Support network weaving for artists and cultural strategy organizations to collaborate with one another and share learning as the field develops and grows.
View the Constellations Culture Fund Deck
Read the Constellations Culture Fund Concept Paper
Anchored by a collaborative design process, Constellations offers a unique opportunity for a group of bold funders to grow the cultural strategy field that exists at the intersection of arts and social justice. While many philanthropic initiatives are driven by the vision and perspective of funders, Constellations is led by practitioners who have decades of experience at this intersection, and who are inviting funders into a collaborative three-year learning process.
The recommendations of these field leaders were synthesized into a report called Celestial Navigation: How to Fund Culture Change in the U.S. and presented to philanthropic partners on a webinar in June 2020.
Download the Recommendations Report
If you are interested in learning more about investing in the Constellations Culture Change Fund, please reach out to constellations@culturalpower.org.
DESIGN TEAM
● Arts in a Changing America: Roberta Uno
● The Center for Cultural Power: Favianna Rodriguez, Tara Dorabji
● Cultural Strategist: James Kass
● Cultural Strategist: Nayantara Sen
● Cultural Strategist: Sonya Childress
● Detroit Narrative Agency: ill Weaver, Ryan Pearson & Cornetta Lane Smith
● Firelight Media: Monika Navarro
● First Peoples Fund: Lori Pourier
● Intelligent Mischief: Terry Marshall
● SMU Meadows / Ignite Arts: Clyde Valentin
● Surdna Foundation: F. Javier Torres-Campos
● TruArtSpeaks: Tish Jones
____
We owe a lot to the field practitioners and cultural strategists who have helped us better articulate and define cultural strategy and narrative change, and have inspired even the name of the Constellations Fund. For more information on the terminology and definitions that ground this field, please see A Conversation about Cultural Strategy, by Jeff Chang, Liz Manne & Erin Potts.