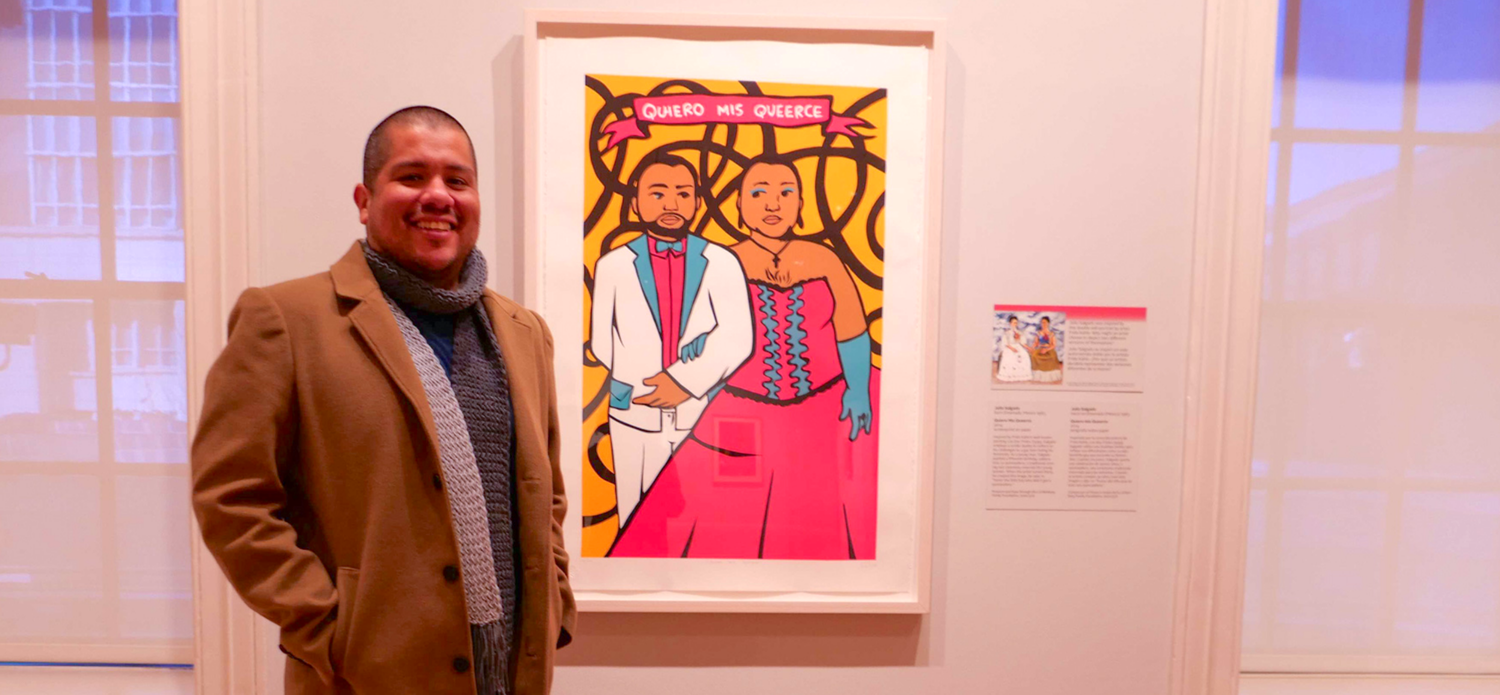 ¡Printing the Revolution!
The Center for Cultural Power
December 11, 2020
Art that speaks truth to power fuels movements and makes history. The nation's archive of art history, The Smithsonian American Art Museum in Washington, D.C., just opened ¡Printing the Revolution! an exhibit that captures the history of printmaking inspired by activist Chicanx artists in the 1960s. The show features artists from The Center for Cultural Power's network, among them, Senior Program Manager Julio Salgado and President Favianna Rodriguez. Others include Ernesto Yerena, Oree Originol, Melanie Cervantez, Jesús Barraza, Lalo Alcaraz, Zeke Peña, and many more.
"There are so many challenges in my life that are beyond my control," says Salgado about what propels his practice, "from politicians making decisions that will affect your life, to the way others perceive you and your communities. I create because it is literally the only thing I feel some control over. To know that I come from a legacy of creators who use this medium to leave a documentation of our lives is truly an honor. "
Rooted in the civil rights, labor, anti-war, feminist and LGBTQ+ movements, Chicanx printmakers birthed new aesthetics that embodied and drove political and cultural consciousness among Latinx people in the US. The exhibit dispels misconceptions of what "political art" looks like, weaving satire, portraiture, abstraction, and pop. ¡Printing the Revolution! marks the reopening of the museum during the. COVID-19 pandemic and widens the lens on the art form and artists, both which continue to be vital today.
"Printmaking represents the language of the people," says Rodriguez, "It is the tradition of using the multiple in order to educate, agitate, and organize. It is an art form that disrupted the elite nature of the fine art world in order to tell the story of our communities. I am so grateful that I was mentored by Chicanx printmakers who taught me how art could be ammunition in the struggle for justice."
Artists working in community keep the flame alive and generate new directions in socially charged printmaking. From the Smithsonian: "The exhibition is the first to consider how Chicanx mentors, print centers and artist networks collaborated and nurtured other artists, including multigenerational stories like that of Chicana artist Yreina D. Cervántez, who mentored her student Favianna Rodriguez, born to Peruvian immigrants in Oakland. Rodriguez herself would go on to mentor digital artist Julio Salgado, a Mexican-born artist and DACA recipient, who is well known for his work exploring the intersection of LGBTQ+ and immigrant rights."
"Printmakers opened the doors of art activism for me and I continued opening those doors," said Rodriguez about carrying the legacy forward into the future.
Check out more about the exhibition here. Watch highlights in this video.