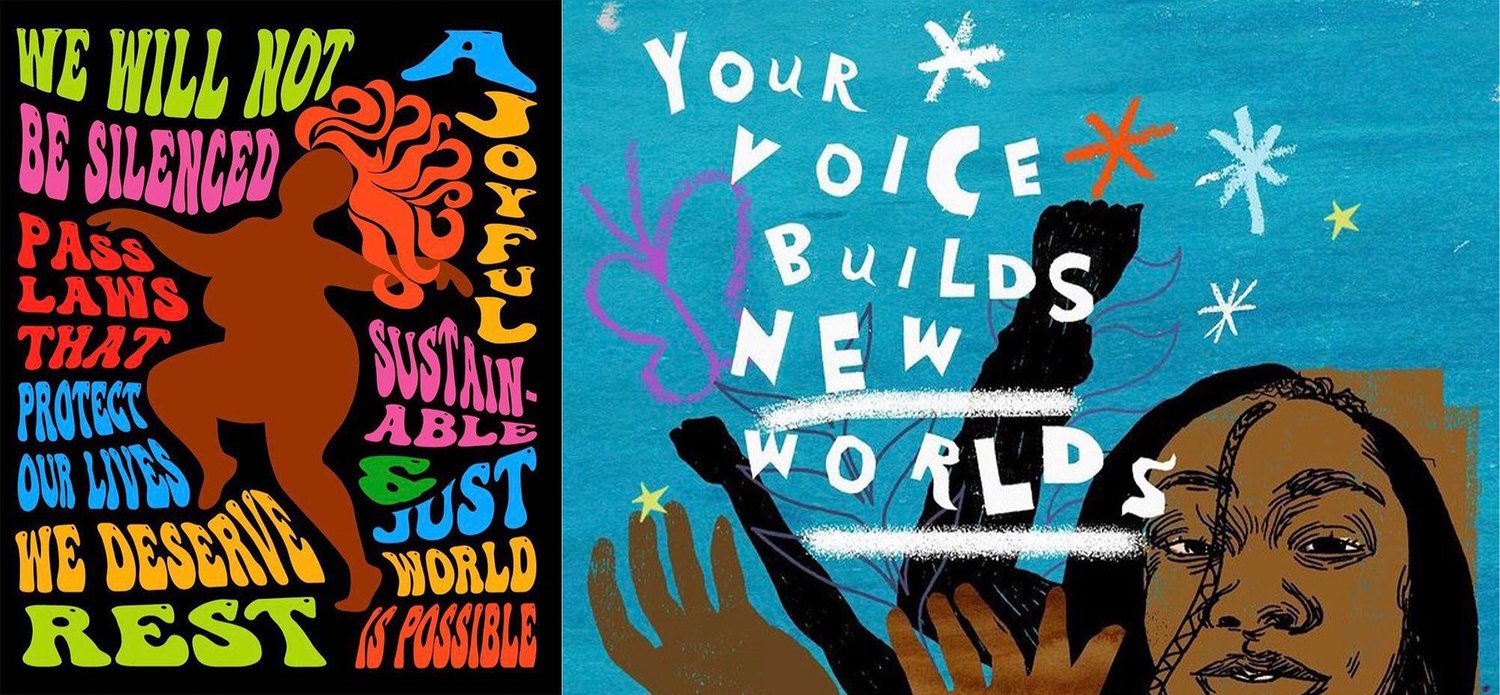 Getting Ready to Get Loud in 2022
The Center for Cultural Power
November 11, 2021
Rising from the ashes of 2020, our advocate communities have much to celebrate and much to claim in securing the gains made and instilling the vision we seek in the world. Coming off of a big historic movement to the ballot box, 2021 was about keeping that energy going while also needing to rest, reset, recharge. As we've seen from immigration to climate to justice to the freedom to vote, the energy for change has not changed. Whether it's young people going on a hunger strike for action on climate or activists demanding protections for renters, the movement that ushered in a new government will usher in a new future. "We need stories that inspire people to do more than just vote, but to come together to claim their power and create a new future. Together, working with movement and artists we can do that." says CCP Director of Campaigns, Cristina Uribe. Artists are poised to write those new stories in partnership with movement groups.
At Cultural Power we are learning lessons from 2020 about how artist-generated content can engage hard to reach, under-represented BIPOC communities to build power. These are communities that have every reason not to believe civic engagement is worth it. If you look at mainstream media, Twitterati, and pundit chatter, why should anyone get up and get loud about what matters? The late activist, reverend, and lawyer Pauli Murray once said, "Hope is a song in a weary throat. Give me a song of hope and a world where I can sing it." Our throats may be weary but we are not done singing our song.
It's easy to give up, but the communities we work with aren't sitting it out. Our work shows us that frontline communities will get loud and get motivated from stories that come from them and speak to them. That's why our civic engagement work will:
Celebrate those who achieved so much and continue to inspire us to mobilize
Develop stories focused on the better future that's not far off, a future we make now
Learn lessons from our 2020 content response research, iterate, and scale
Coming out of a hard fought election, demand remains high 1) from movement partners for content and 2) from artists and culture makers for continued engagement on key issues like immigration, climate and the freedom to vote. Our research and our deep practice of narrative strategy show us that storytelling works when it isn't reinforcing negative, trauma-based, do or die narratives. It also needs to feel real when "voting" and "democracy" seem intangible. Our audience research also showed how we overcame this by commissioning artists from the communities we hoped to reach and by storymaking that reflects BIPOC Queer and Trans communities with joy, humor, and emotion.
In 2022 we will scale, creating more content, coupled with research on audience response. We are throwing on our lab coats to learn about how our partnerships with movement groups are working and how to amp our distribution systems (by tests with micro-influencers and media platforms, for example). We want to understand how, where and when audiences consume digital content to deliver gorgeous stories to the spaces where they get seen.
Since 2020, building on our successful partnerships with over 15 social change organizations we have started collaborative conversations with organizations that are values aligned and focused on building the power of BIPOC communities at the state and local level, including in places such as Texas, Arizona, North Carolina, Wisconsin, Georgia, Michigan, and Ohio. Partner examples include Caring Across Generations, MomsRising and Community Change.