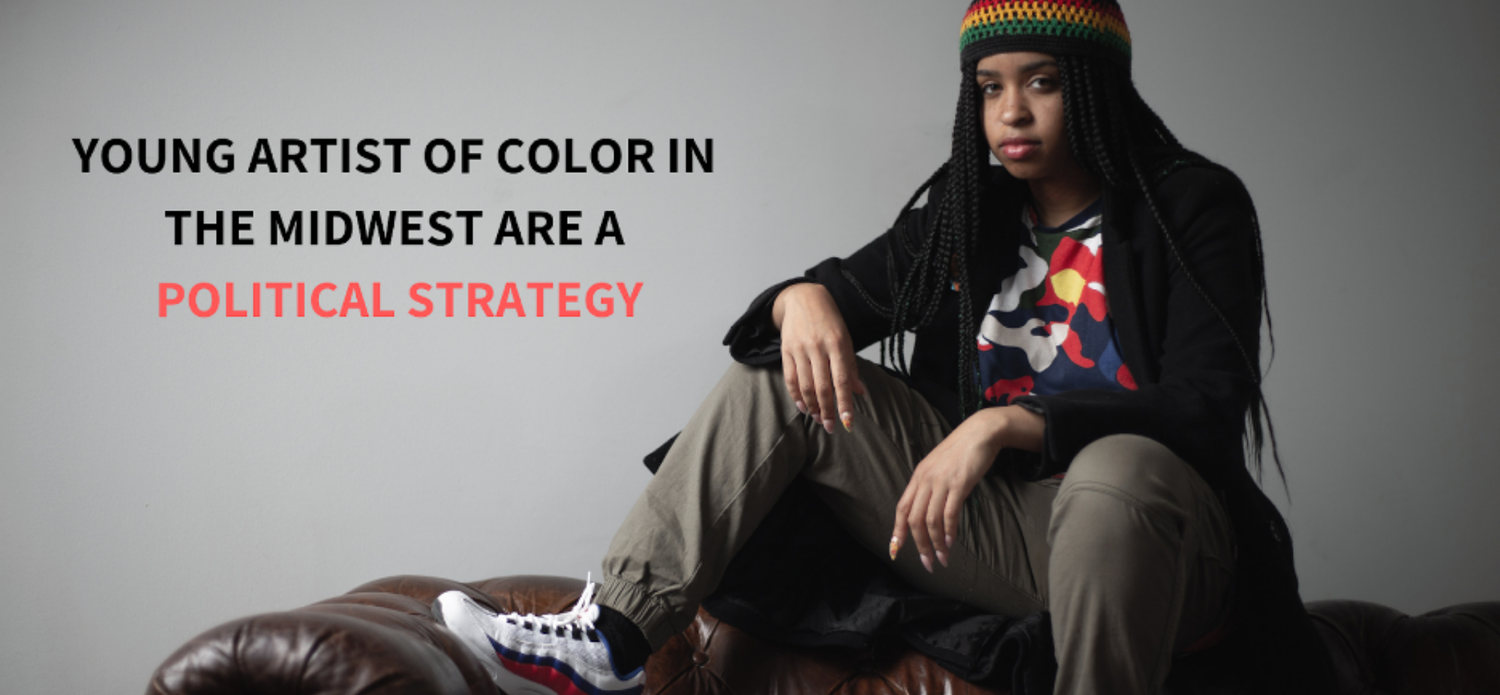 Sparking Action and Changing Minds
The Center for Cultural Power
May 29, 2020
What happens when young Black and Brown artists become voices for their communities? A shift. The Midwest Culture Lab (MCL) cultivates and amplifies young artists, especially people of color, to design campaigns that spark action and change minds.
Launched in 2018, the MCL team of cultural strategists gathered thousands of stories from young people of color around the Midwest to learn from voices often left out of the mainstream political imagination. They homed in on narratives, goals and actions which turned into the Story Platform, a tool for artists and culture makers to build creative content that echoes a consistent vision of a future co-created by young people of color where communities are whole, healthy, and can experience joy.
By engaging and training a network of community artists as change makers, MCL uplifts civic engagement through culture and builds sustained creative capacity for voter engagement. The cultural strategy will result in long-term tangible political and policy victories for young people of color in the Midwest, and a greater role in our culture for the voices and ideas of young people of color.
The project is anchored to a long-term power-building agenda through a partnership between Ohio Student Association, Leaders Igniting for Transformation (Wisconsin), Chicago Votes, and The Center for Cultural Power.
In Spring 2020, against the backdrop of the pandemic, the MCL hosted its second Midwest Artist Power Convening, this time as a virtual 6-week course, providing stipends to a powerful network of 35 multimedia artists and artist-activists includings singers, songwriters, photographers, digital media designers, culinary artists, painters, poets, and writers.

Case Study in Artist Power
The work in Ohio in the 2018 pilot phase contributed to the creation of more than 100 pieces of original story-based content distributed through the Ohio Student Association's social media and network artists. It showed young creatives are exceptional storytellers who craft art, culture and stories that naturally engage their communities. The pilot also affirmed the need to expand and reimagine the role of young black and brown activists beyond canvassing and text-banking to meaningful campaign messaging and distribution.
Our most successful story creation and distribution effort was the Imagine a World Without Cages Video. It was recorded at an artist convening in Columbus with a script created from the reflections of the artists themselves shared with Prentiss Haney and Amber J Phillips. Kailah Ware, a local young Black artist from the network shot and edited the video, building her portfolio and expertise. Music was sampled from Mariah Johnson's original song: Ode to the Midwest created off the MCL's story platform. The ripple effects of our network of young artists recognizing that they are capable of creating professional ads that best the quality and reach of the campaign consultant class is at this time immeasurable.
Photographer: Dayton Photographer Shon Curtis
Pictured: Chicago Artist Demi Christi